Smartphone Users Home Page
ELECTRIC BICYCLES ARE HERE!!!
See below...



JUMP BIKEFILM TEASERS
Click here or on the JUMP logo below to preview the second teaser...
See talented riders demonstrating their various skills on these top quality bikes. If you ride bikes yourself, or are just a fan of this great sport, then you're sure to feel inspired by some of the great lines and tricks captured on these short mountain bike films.


Click Here For Film Teaser featuring music by KRONIX!!!

Check out these FREE mountain bike films!

CRASH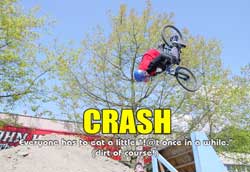 Click here to see this mountain bike
Crash video for FREE!
The sickest, non-stop collection of crashes from on planet earth World Cup to dirt jumps to huge freeride hucks - including "Andres's leap of death"! Tunes include singles from Radio Killer.
"I wasn't scared of that line before you did it... Now I am!" - BO after seeing Andre's death defying crash.
Length: over 12 mins.



PROJECT "X"
Project "X" may just be the strangest mountain bike you will ever see!
Check out this great flick on the building and testing of this totally pimped out custom snow bike with 6 shocks and watch for the Surprise Ending!

Length: approx. 5 minutes.
Click here to see this STRANGE mountain bike video for FREE!