Downhill Dave busted up... after a front tire failure off a concrete staircase jump. Check out the broken clavicle below... and his post-op x-rays with titanium rods/ bolts. Check out the titanium in his leg at the bottom of this page :) Have a good laugh at my expense and Happy Riding!
Click on the x-ray images below for the larger photo :)))
DH Dave's pet centipede :))))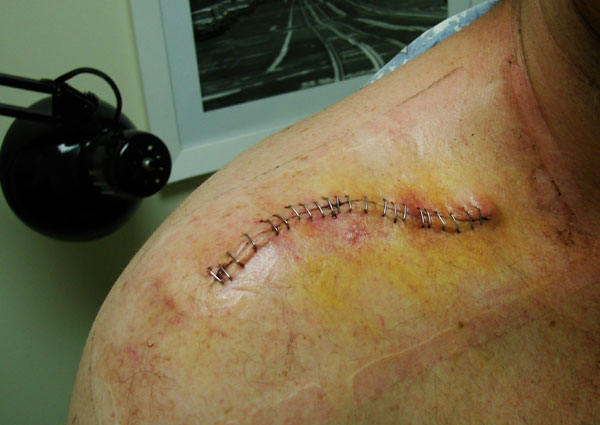 X-ray before the operation...
Canada Engines is Canada's largest engine remanufacturer and installer. Whether your drive a Ford 4x4 pickup truck or a Honda, they can build you a great engine and install it in just days. Check out their website and the short video tours of their engine machine shop.

They also do high performance racing engines...

PHOTO GALLERY
Scenes from current and upcoming flicks here on bikefilms.com. Click on the images to see them larger...
| | | |
| --- | --- | --- |
| | | |
| | | |
| | | |
| Go big! | | |
| | | |
| | | |

other...


We plan to bring you the best (and the worst) biking has to offer! First, here is a sampling of the worst:
Here is DH Dave's leg x-ray from a 1998 downhill racing accident at the Tim Hortons Nationals at Sun Peaks in Kamloops, BC.
"Downhill" shattered his tibia in over 20 places, including the knee joint. He also sustained other injuries, but is back in action after 4 months in a wheelchair and even made it back to racing! Rumour has it there was yet another mixup at Kamloops Hospital and while undergoing leg surgery, Dave accidentally received a full-frontal lebotomy. Dave claims that is untrue and the unsightly scar across his forehead is actually from a shaving incident. Yeah... right Dave...
Here is Dave's x-ray. The image on the left is the side view showing the plate. The right view is from the front (note the 44 staples from the incision!).